Calm Harm
By stem4
Features


Get the app:


Country of origin
United Kingdom
Clinical review





Read a clinical review of this app.

Security and privacy
Does the app:


collect medical information? Yes
require a login? No
have password protection? Yes
have a privacy policy: Yes
require internet access? No

Read more safety tips around health apps
Cost
Free
What does the app do?
Calm Harm app is designed for young people aged 13–19 years, but it is suitable for anyone over the age of 13 who needs help with tolerating distress – including those who self-harm.

This app comprises a number of activities that help users to resist and manage the urge to self-harm. For each activity, users can choose a 5-minute rule activity or a 15-minute rule activity. Users can hide activities that they don't find helpful. Example of activities include the following:
Comfort has more than 30 activities that are meant to offer comfort such as stroking a pet, looking at a book that has pictures or wording you love, giving yourself a hug or gently rocking your body, etc.
Distract

has more than 50 activities that are intended to distract the user, such as how many singers can you name, say the 19 times table, collect images that make you happy, etc.

Express yourself has suggestions of ways you can express yourself, such as saying out loud what's bothering you, keeping a diary of your thoughts and feelings, engaging in a spiritual activity, etc.
Release provides safe alternatives to self-harm, such as squeezing a rubber ball very hard, having a temper tantrum somewhere private, singing something really loudly.
Breathe is a breathing technique to reduce stress and anxiety symptoms.
Random is a random scramble of the activities above.
For the complete app description, go to the App website(external link), Google Play(external link), App Store(external link) or for a more detailed review, see Reviews.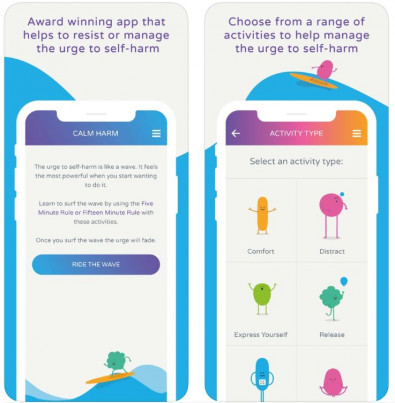 PROS
CONS

✔ Developed by a clinical psychologist using principles of Dialectic Behaviour Therapy (DBT), an evidence based therapy commonly used to help with self-harm.

✔ Activities are categorised into comfort, distract, express yourself and release. Within each category are a multitude of activity ideas.

✔ The large number of activities offered mean that users are likely to find an activity that will suit them.

✔ The user can hide activities that are less helpful.

✔ Countdown timer for completing the 5 minute (in 5 lots of 60 seconds) and 15-minute activities.

✔ There is a random function which lets the user choose a random category or activity.

✔ There is also a breathe category for focusing on controlling the user's breathing in 1 minute blocks with visual feedback.

✔ Log and track your feelings after each activity. The app also tracks general usage to determine when the user has the strongest urges.

✔ Personalise the app by choosing a colour theme and mascots.


✘ Password protection is a double-edged sword. There are multiple reviews from users who have forgotten their passwords and are locked out (requiring re-installation). This could be more common in periods of crisis. However, password protection is optional.

✘ No contact list for local mental health support resources. However, there is a blank contact section where the user can add their own contacts.

✘ No guided meditation or visualisation, which are common in mental health apps.

✘ Cannot export data.

✘ Some functions are unavailable or difficult to find or access, eg, not able to add to list favourite activities, difficult to hide disliked activities.
Review details
April 2022, Version 4.6.2, Android
September 2019, Version: 3.2.3, Android
Learn more
This app has been reviewed by other independent websites.
Calm Harm(external link) Mind
The "Calm Harm" app – a user review(external link) eMHprac
Calm Harm(external link) MindTools.io
Calm Harm – A professional review(external link) One Mind PsyberGuide
Related topics
Self-harm
Consumer guide: how to choose a health app
Clinicians guide: how to choose a health app
Self-harm prevention apps
NZ Health App Library
References
Vieira AM, Lewis SP. Mobile apps for self-injury: a content analysis.

(external link)

Cyberpsychol Behav Soc Netw. 2018 May;21(5):333-337.
App developer: If you are the developer and would like to provide updated information about this app, please email the app library manager at
hello@healthify.nz
Disclaimer: Healthify's app library is a free consumer service to help you decide whether a health app would be suitable for you. Our review process is independent. We have no relationship with the app developers or companies and no responsibility for the service they provide. This means that if you have an issue with one of the apps we have reviewed, you will need to contact the app developer or company directly.