BURP app
By Digital Stock Limited
Features


Locating breastfeeding friendly places

Get the app:



Country of origin

New Zealand

Clinical review





Read a clinical review of this app.

Cost

Free
What does the app do?
The app uses a global positioning system (GPS) to determine your location and show you breastfeeding friendly venues closest to you. The app is limited to the Southland and Otago area. Users can search for specific location types such as cafes, restaurants, pools, libraries and parks. For a more detailed description of the app, see Google Play(external link) or iTunes(external link).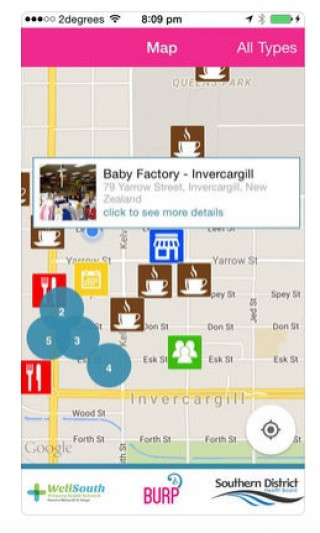 Pros

Cons

✔ Google maps overlay of breastfeeding friendly venues in Otago and Southland

✔ Lists the availability of amenities such as private spaces, changing stations, highchairs, pram friendliness and play areas.

✔ Custom descriptions from the venues about how they support breastfeeding mums.

✔ The website has guidelines for venues wanting to become breastfeeding friendly.

✘ The major flaw is that it only supports Otago and Southland.

✘ Not a fully native app, with most of the links opening in a web browser rather than displaying information natively within the app.










Review details
Date of review: December 2016
Platform reviewed: Android
App version: 1.1.1
Download size: 2.5 MB
Learn more
BURP app - about the app(external link)
Related topics
Consumer guide: how to choose a health app
Clinicians guide: how to choose a health app
Breastfeeding apps
NZ Health App Library
Baby – all topics
App developer: If you are the developer and would like to provide updated information about this app, please email the app library manager at
hello@healthify.nz
Disclaimer: Healthify's app library is a free consumer service to help you decide whether a health app would be suitable for you. Our review process is independent. We have no relationship with the app developers or companies and no responsibility for the service they provide. This means that if you have an issue with one of the apps we have reviewed, you will need to contact the app developer or company directly.