Blood Pressure DB
By Horst Klier
Features


Blood pressure recording
Blood pressure and medication tracking
Graphs and reports
Bluetooth capability

Get the app:



(external link)

(external link)

(external link)

Clinical review




Read a clinical review of this app.

User reviews

Security and privacy
Does the app:


collect medical information? Yes (only that necessary for use of the app)
require a login? No
have password protection? Yes
have a privacy policy? Yes
require internet access? Yes (for full function)

Read more

safety tips around health apps

.

Cost

Basic version – free. Some limits on functionality, including a maximum of one PDF report per day and limited to 300 values.
Premium – 4.17 EURO per month gives you unlimited PDF reports, PDF reports with extra features, no advertising.
What does the app do?
This app allows you to record your systolic and diastolic blood pressure readings. The charts and graphs enable you to see your readings in the past 7 days, 30 days or 90 days. It also allows you to record their pulse, blood glucose level and weight. For a more detailed description of the app, see App store(external link), Google Play(external link) or the App website(external link) and, for a detailed review, see Reviews.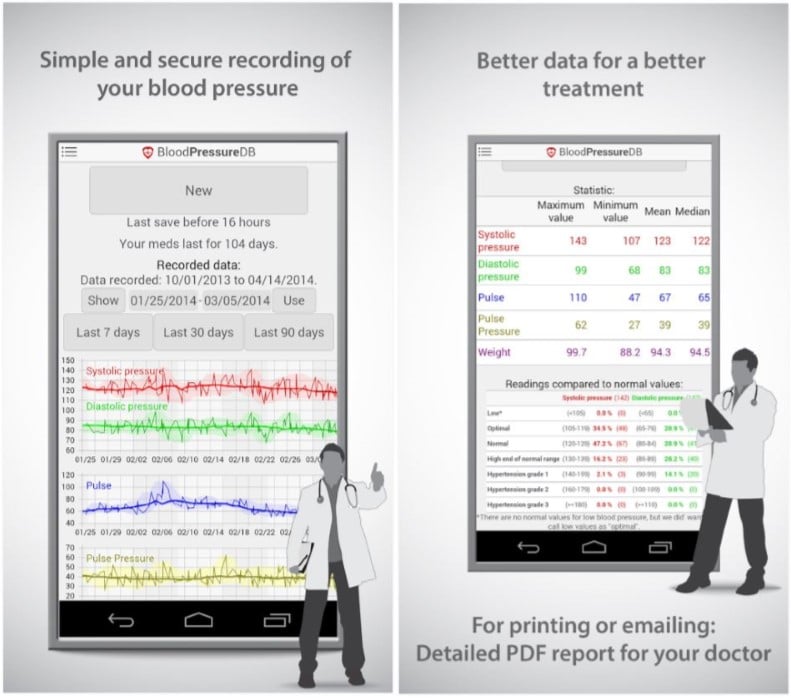 PROS

CONS

✔ PDF data reports can be emailed or printed directly from the app.

✔ Basic (free) version would be good enough for most people.

✔ Bluetooth connectivity to compatible blood pressure machines (some of these are available in New Zealand).

✔ Option to synch with Apple Health.

✔ Multiple users can be added.

✔ Option to use without creating an account if you prefer to use anonymously.

✔ No unnecessary data collection, no third party data sharing, no profiling.

✘ No option to set your individual targets.

✘ Entering an abnormal blood glucose reading doesn't flag any alerts.

✘ Technical problems with registration, but able to use as a guest.
Review details
April 2021, Version 7.0.0, Apple iOS
August 2016, Version 5.69, Android
App developer
If you are the developer and would like to provide updated information about this app, please email the app library manager at applibrary@healthify.org.nz.
Learn more
Green BB. BP here, there, and everywhere – mobile health applications (apps) and hypertension care(external link) J Am Soc Hypertens. 2015 Feb;9(2):137-9.
Kumar N, Khunger M, Gupta A, Garg N. A content analysis of smartphone-based applications for hypertension management(external link) J Am Soc Hypertens. 2015 Feb;9(2):130-6.
Related topics
Blood pressure (mate pēhanga toto)
High blood pressure | Mate pēhanga toto
Low blood pressure
NZ Health App Library
Consumer guide: how to choose a health app
Clinicians guide: how to choose a health app
Disclaimer: Healthify's app library is a free consumer service to help you decide whether a health app would be suitable for you. Our review process is independent. We have no relationship with the app developers or companies and no responsibility for the service they provide. This means that if you have an issue with one of the apps we have reviewed, you will need to contact the app developer or company directly.