Blood Glucose Tracker
By Little Bytes Software

Features


Blood glucose diary
Medication tracking
HbA1c recording
Carbohydrate/meal diary
Graphs and reports
Blood glucose check reminder

Get the app:


(external link)

(external link)

Clinical review




Read a clinical review of this app.

Cost

Free
What does the app do?
This app allows the user to record their blood glucose levels throughout the day. You can set target blood glucose ranges for each event such as before breakfast, after lunch, before sleep. It allows you to record other information such as medication, blood pressure, weight, HbA1c (%).
For the complete app description, go to Google Play(external link) (android) or App website(external link), and for a detailed review, see Reviews.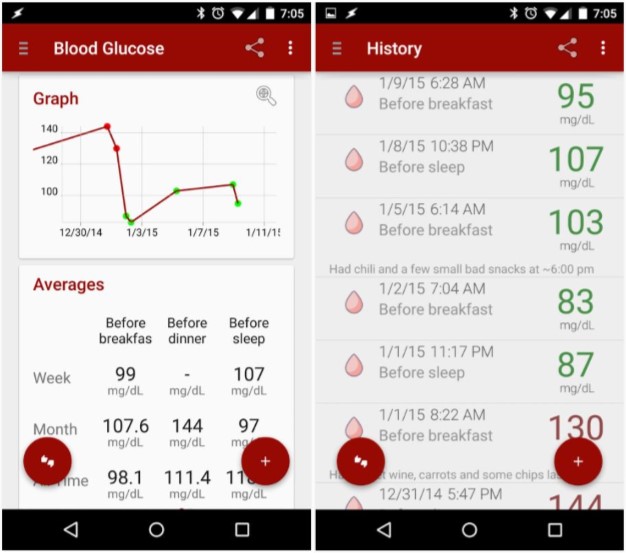 PROS
CONS
✔ Easy to use with levels available to choose rather than having to enter numbers.

✔ This app is US based but the units of measure for blood glucose, HbA1C and weight can be customised to the units used in New Zealand.
✘ To be able to email results or access all features you need to pay for the app.

✘ This app is US based. The medications are listed by generic name — many but not all are available in New Zealand.
Privacy and security
No login is required and the app is not password protected. The app has a privacy policy. Read more about things you can do to improve your safety and security when using apps.
Review details
Date of review: July 2016
Platform reviewed: Android
Version: 1.6.6
Download size: 6.8 MB
References
The following references relate to articles about apps for diabetes management.
Rhyner D, Loher H, Dehais J, et al. Carbohydrate Estimation by a Mobile Phone-Based System Versus Self-Estimations of Individuals With Type 1 Diabetes Mellitus: A Comparative Study.

(external link)

J Med Internet Res. 2016 May 11;18(5):e101.
Deacon AJ, Edirippulige S. Using mobile technology to motivate adolescents with type 1 diabetes mellitus: A systematic review of recent literature.

(external link)

J Telemed Telecare. 2015 Dec;21(8):431-8.
Arnhold M, Quade M, Kirch W. Mobile applications for diabetics: a systematic review and expert-based usability evaluation considering the special requirements of diabetes patients age 50 years or older.

(external link)

J Med Internet Res. 2014 Apr 9;16(4).
Related topics
Diabetes type 2 apps
What is diabetes?
NZ Health App Library
Consumer guide: how to choose a health app
Clinicians guide: how to choose a health app
App developer: If you are the developer and would like to provide updated information about this app, please email the app library manager at
hello@healthify.nz
Disclaimer: Healthify's app library is a free consumer service to help you decide whether a health app would be suitable for you. Our review process is independent. We have no relationship with the app developers or companies and no responsibility for the service they provide. This means that if you have an issue with one of the apps we have reviewed, you will need to contact the app developer or company directly.