Babble NZ Neonatal Family App
By MidCentral DHB
Features


Education and Information
Community
Journalling
Export data

Get the app:



(external link)

(external link)

Country of origin

New Zealand

Clinical review




Read a clinical review of this app.

Security and privacy
Does the app:


collect medical information? No
require a login? No
have password protection? No
have a privacy policy? Yes
require internet access? No, although you would need internet to share journal digitally

Read more

safety tips around health apps.
Cost
Free
What does the app do?
This app provides users with information about what to expect if their baby is admitted to a neonatal unit, NICU or special care unit. It contains information on routine checks and tests, feeding, equipment, common diseases and medication. It also has information about what you can expect when your baby is born prematurely (before the due date), advice for dads and what is needed when your baby goes home. You can also read stories of other parent's experience and journey with their baby in the neonatal unit.
For the complete app description, go to Google Play(external link) or the App Store(external link) or, for a more detailed review, see Reviews.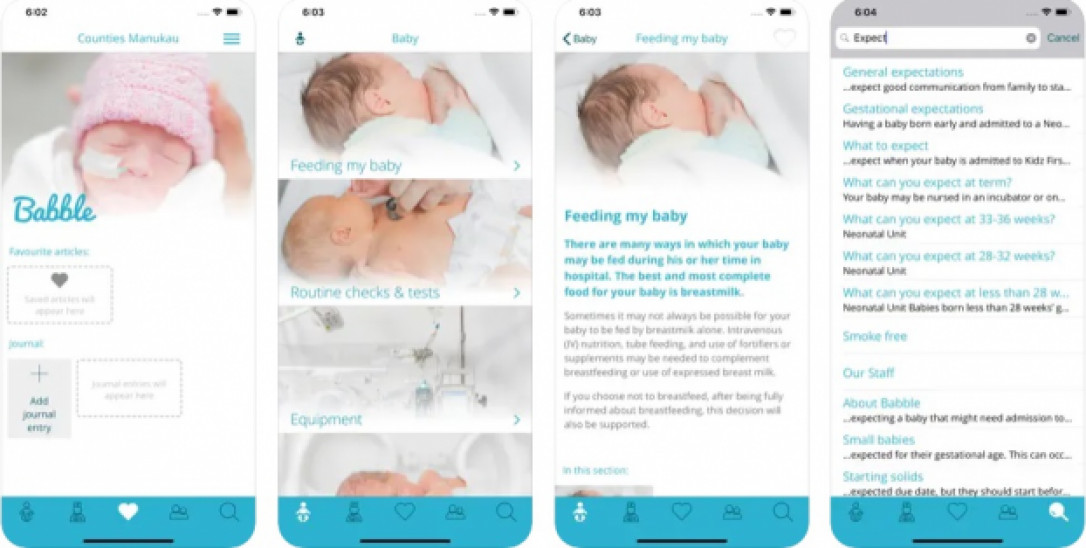 PROS
CONS

✔ User is able to create individualised, personalised profiles.

✔ Provides easy access to saved personal articles and journal entries.

✔ App has a great look – easy on the eye, with a soft colour scheme and real-life pictures.

✔ Provides very useful, clearly written information on a variety of topics related to the care of a baby – great starting point for families to learn about many vital topics regarding the care of their newborn.

✔ Allows a user to develop connections with others with app community features and Babble news.

✔ Written by medical staff currently working in NZ neonatal units.

✔ Creates a sense of empowerment and feeling of support for parents and family.

✘ Some of the medical terms and jargon may be difficult to understand.


Review details
February 2021, Version 2.5.1, Apple
February 2020, Version 2.2.1, Apple
June 2016, Version 1.2.14, Android
Learn more
Unit(external link) Palmerston North Hospital, MidCentral DHB
MidCentral DHB phone app to educate parents(external link) Stuff.co.nz
Related topics
NZ Health App Library
Consumer guide: how to choose a health app
Clinicians guide: how to choose a health app
Birth defects
App developer: If you are the developer and would like to provide updated information about this app, please email the app library manager at
hello@healthify.nz
Disclaimer: Healthify's app library is a free consumer service to help you decide whether a health app would be suitable for you. Our review process is independent. We have no relationship with the app developers or companies and no responsibility for the service they provide. This means that if you have an issue with one of the apps we have reviewed, you will need to contact the app developer or company directly.