Note: This app appears to no longer be available in the New Zealand app stores.
Asthma Friendly Classroom
By Michael Casilla
Features


Education and information

Clinical review
User reviews

Cost
Free
What does the app do?
This app is adapted from material by the American Lung Associations' Asthma Friendly Schools Initiative Tool Kit-Healthy Air Walk through Classroom Checklist and the Boston Public Schools Promoting Healthy School Buildings. There is an increasing awareness to create asthma friendly schools in New Zealand. Although US based, this app has many tips and hints that are applicable to NZ schools and classrooms such the how and why of reducing classroom clutter, avoiding chemicals, identifying and reducing exposure to allergens, etc. For a more detailed description of the app and for a detailed review, see Reviews.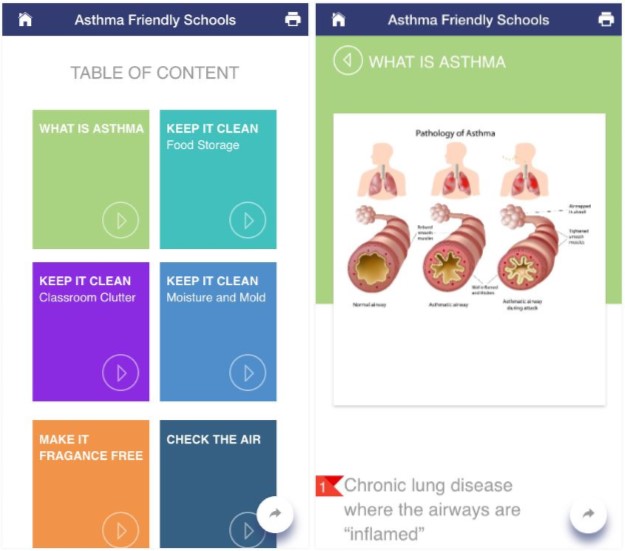 PROS

CONS

✔ Comprehensive information about trigger avoidance.

✔ Easy to use, with clear images and simple handy hints.

✔ Useful tool to use as a start to creating awareness in schools about being asthma friendly.

✘ No information about asthma treatment

✘ Since this app is US based, there may be suggestions not applicable to NZ or practices in NZ that are not included in the app.
Privacy and security
To be added
Review details
Date of review: March 2017
Platform reviewed: Android
App version: 0.02
Download size: 10.83 MB
Learn more
Related topics
Asthma apps
Asthma in children | Mate huango tamariki
NZ Health App Library
Consumer guide: how to choose a health app
Clinicians guide: how to choose a health app