Arthritis Power
By Global Healthy Living Foundation

Features

Symptom tracking.
Medication and treatment tracking.
Education.
App community.
Opportunity to participate in research.

Get the app:

Country of origin

US
Clinical review




Read a clinical review of this app.

Security and privacy
Does the app:


Collect medical information? Yes
Require a login? Yes
Have password protection? Yes
Have a privacy policy? Yes
Require internet access to use? Yes

Read more

safety tips around health apps.
Cost
Free
Advertisements

This app contains no ads.
What does the app do?
Arthritis Power app enables you to track symptoms eg, pain, fatigue (tiredness) and sleep disturbance. It also includes options to track general health and emotions, and enables you to record your treatments and medicines. By recording your symptoms regularly, you can gauge how they are changing over time, eg, in response to new medicines. There is also a support community with stories from other people with arthritis, and opportunities to share your own experience.
The app is also a registry, which means that the health data collected is used for research.
For the complete app description, go to either Google Play(external link) or App store(external link) and, for a detailed review, see Reviews.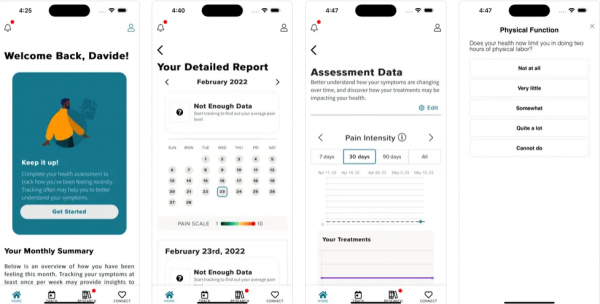 PROS

CONS

✔ Uses validated questionnaires to collect data about symptoms of arthritis.

✔ Can modify which questionnaires are used to focus on symptoms of most concern.

✔ Data is included in a patient-led database for research on arthritis. This data cannot be linked to the person who provided it.

✔ Ability to create electronic reports to be shared with doctors and family members.

✔ Ability to track other health concerns and conditions associated with arthritis symptoms, eg, depression, sexual function or social activities.

✘ Hard to navigate – you have to look hard to find all the functions.

✘ Long informed consent process when you first sign up.

✘ No linking with other health concerns, life events or medication changes, so although it tracks symptoms it doesn't suggest ways to manage them.

✘ Research database is held in the US, so unlikely for research to be undertaken in Aotearoa New Zealand.

✘ Medication tracking list has medicines not available in Aotearoa New Zealand.
Review details
October 2023 Version 3.7.1, Apple
January 2020 Version 2.6.1, Apple
July 2016 Version 1.2.0, Google Play
Related topics
Arthritis apps
Arthritis support
Consumer guide – how to choose a health app
Clinicians guide – how to choose a health app
NZ Health App Library
References
The following references relate to articles about apps for arthritis.
Grainger R, Townsley H, White B, et al. Apps for people with rheumatoid arthritis to monitor their disease activity: a review of apps for best practice and quality

(external link)

JMIR Mhealth Uhealth 2017;5(2):e7.
Majeed-Ariss R, Baildam E, Campbell M, et al. Apps and adolescents – a systematic review of adolescents' use of mobile phone and tablet apps that support personal management of their chronic or long-term physical conditions

(external link)

. J Med Internet Res. 2015;17(12):e287.
Nishiguchi S, Ito H, Yamada M, Yoshitomi H, et al. Self-assessment tool of disease activity of rheumatoid arthritis by using a smartphone application

(external link)

. Telemed J E Health. 2014;20(3):235-40.
App developer: If you are the developer and would like to provide updated information about this app, please email the app library manager at
hello@healthify.nz
Disclaimer: Healthify's app library is a free consumer service to help you decide whether a health app would be suitable for you. Our review process is independent. We have no relationship with the app developers or companies and no responsibility for the service they provide. This means that if you have an issue with one of the apps we have reviewed, you will need to contact the app developer or company directly.