AIMS for Anger Management
By Veterans Affairs
Features


Education and information
Goal setting
Diary
Tracking
Graphs and reporting
Data exports

Get the app:


Country of origin
United States
Clinical review





Read a clinical review of this app.

Security and privacy
Does the app:


collect medical information? Not really (collects social rather than medical information)
Require a login? No
have password protection? Yes
have a privacy policy? Yes
require internet access? No

Read more safety tips around health apps.
Cost
Free
What does the app do?
AIMS for Anger Management is for people who feel they are struggling to manage their anger. The app is split into 4 main sections:
Tools: There are short audio or self-guided interventions such a deep breathing, muscle relaxation, thought stopping and time out that you can access at any time when you are faced with an immediate anger issue.
Learn: Short articles that teaches you about anger, the triggers and warning signs for your anger and the aggression cycle. There is also advice that teaches you to better manage your anger by creating an anger control plan.
Anger log: Helps you to record incidents where you got angry and the situations surrounding your anger to get better insight into your anger cycle.
Anger control plan: You can personalise your anger control plan, focusing on your goals, triggers, warning signs and the strategies you find effective.
For the complete app description, go to the app website(external link), Google Play,(external link) App Store(external link) or, for a more detailed review, see Reviews.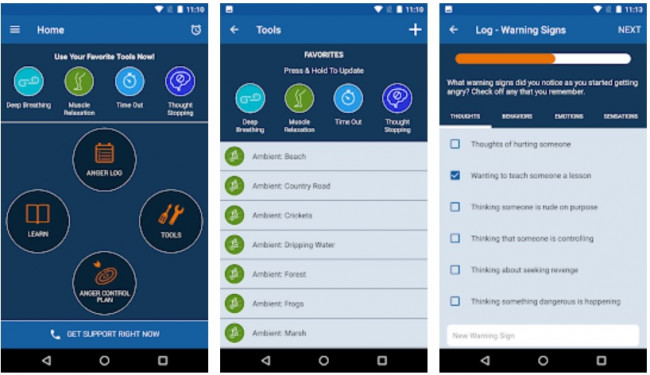 PROS
CONS

✔ Free, easy to use app.

✔ Effective, personalisable tools that you can use to help manage your immediate anger issue. These tools are on the front page of the app.

✔ Helps you better understand anger through the Learn section of the app and through the anger log.

✘ None.
Review details
Date of review: July 2021
Platform reviewed: Apple iOS
Version: 1.6
App developer: If you are the developer and would like to provide updated information about this app, please email the app library manager at
hello@healthify.nz
Disclaimer: Healthify's app library is a free consumer service to help you decide whether a health app would be suitable for you. Our review process is independent. We have no relationship with the app developers or companies and no responsibility for the service they provide. This means that if you have an issue with one of the apps we have reviewed, you will need to contact the app developer or company directly.