AED Locations
By Abletech NZ
Features


Locates the nearest AED (Automatic external defibrillator)
AED's are searchable by location
NZ app

Get the app:


Country of origin

New Zealand

User reviews





Cost

Free
What does the app do?
This app helps you to quickly locate the nearest AED (Automatic External Defibrillator) to your current location, in New Zealand. You are able to browse the AED location on the map, search for AED locations by name or address and get location details, contact information and open hours. The information within the app acknowledges that this app does not indicate an absolute right to use the AED, does not indicate the AED is available for use 24/7, does not indicate the AED is in full working order and does not guarantee the location is geographically correct. For a more detailed description of the app, see Google Play(external link) or iTunes(external link).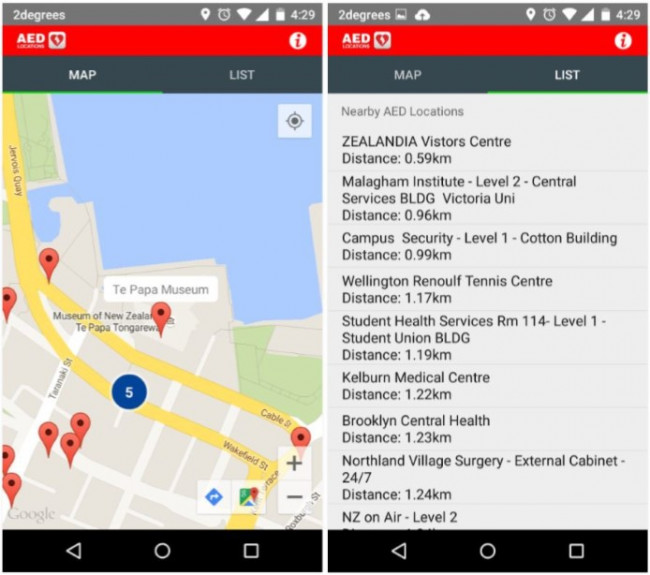 Privacy and security
There is no apparent privacy policy. Read more about things you can do to improve your safety and security when using apps.
Review details
Date of review: March 2017
Platform reviewed: Android
App version: 1.3.1
Download size: 3 MB
App developer
If you are the developer and would like to provide updated information about this app, please email the app library manager at applibrary@healthify.org.nz.
Related resources
The following resources provide more detailed information on AEDs:
Related topics

Consumer guide: how to choose a health app
Clinicians guide: how to choose a health app
Disclaimer: Healthify's app library is a free consumer service to help you decide whether a health app would be suitable for you. Our review process is independent. We have no relationship with the app developers or companies and no responsibility for the service they provide. This means that if you have an issue with one of the apps we have reviewed, you will need to contact the app developer or company directly.