Anoro Ellipta is used to prevent symptoms of COPD such as such wheezing, coughing and shortness of breath. It reduces your symptoms over the long term. Anoro Ellipta ;opens your air passages in your lungs making breathing easier. Anoro Ellipta must be used every day.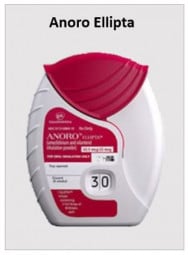 Using an inhaler device enables the medicine to go straight into your airways when you breathe in. This means that your airways and lungs are treated, but very little of the medicine gets into the rest of your body.
Anoro Ellipta does not give immediate relief from wheezing, tight chest and shortness of breath
If you need quick relief from these symptoms, use your 'reliever' medicine such as salbutamol or terbutaline.