mySysters Symptoms Tracker
By Vorsdatter LLC
Features


Symptom tracking
Social forum
Information and education

Get the app from


(external link)

(external link)

Clinical review

Paid version:



Free version:






Read a clinical review of this app.

Security and privacy
Does the app:


collect medical information? Yes
require a login? Yes
have password protection? Yes
have a privacy policy? Yes
require internet access? Yes

Read more safety tips around health apps
Cost
Basic (free); paid upgrade (NZ $15.99 per month)



Learn more about

app charges
What does the app do?
The mySysters symptoms tracker app is mainly an app to track symptoms associated with menopause. The app also has a social forum section and an information section. Overall this is a very basic app with some safety concerns. For a more detailed review, see Reviews.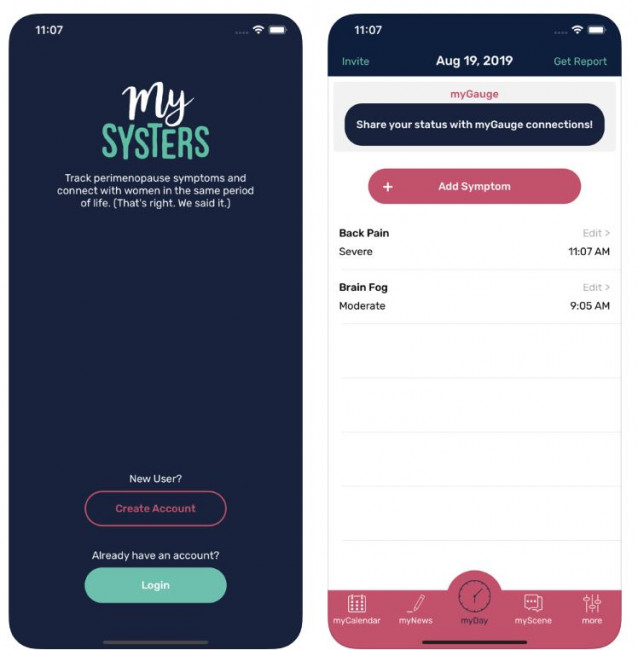 PROS
CONS

✔ Basic symptom tracking (free).

✔ View blog articles written by non-health professionals (free on the website, paid in the app).

✔ Menopause forum (paid).


✘ Expensive at NZ $15.99 a month.

✘ Some concerns with the articles:
- No apparent input from health professionals.
- Many opinion pieces with varying amounts of medical information. The medical information is generally accurate but often incomplete.
- Some may find the articles offensive due to the extensive use of colourful language and ranting nature. However, this may suit other readers.

✘ Some concerns with the forum:
- It doesn't appear to be moderated.
- It is not very active, likely partly due to the cost barrier, with around 60-odd threads of varying quality.
- There are no date or time stamps.
- There appears to be little benefit of using this over a social media group such as a menopause Facebook group.

✘ The tracking feature is poor compared to other apps, eg, you can't view any graphing within the app, you can't add custom symptoms and there is no medication section.

Review details
Date of review: November 2019
Platform reviewed: Apple
Version: 2.2.2
Download size: 24.5MB
Last updated: 18 October 2019
Released: 19 January 2017
Learn more
Menopause
Hormone replacement therapy (HRT)
Related topics
Consumer guide: how to choose a health app
Clinicians guide: how to choose a health app
NZ health app library
Security and privacy of health apps
Menopause apps
Menopause | Rarunga ruwahinetanga
Menopausal hormone therapy
App developer: If you are the developer and would like to provide updated information about this app, please email the app library manager at
hello@healthify.nz
Disclaimer: Healthify's app library is a free consumer service to help you decide whether a health app would be suitable for you. Our review process is independent. We have no relationship with the app developers or companies and no responsibility for the service they provide. This means that if you have an issue with one of the apps we have reviewed, you will need to contact the app developer or company directly.