Note: This app appears to no longer be available in the New Zealand app stores.
Kids Beating Asthma
Basic features

No in-app advertising
Doesn't need WiFi/Mobile data except for the app updates
No social networking (not needed since the app targets a younger audience)
What does the app do?
This app is designed to help educate children and teenagers about asthma. The app has English or Spanish language options and includes two sections, one for children under 12 years old and the other for teenagers (which was under development and not accessible at the time of this review). The app includes an education component with graphics and audio explanation of breathing and asthma. There is also a games section with two basic games. Much of the app is under development and is incomplete such as the entire teenage section and only 2 out of the 5 modules are complete. Overall the intention of the app is great, but it fails to deliver. See Pros & Cons below.
For the complete app description, go to either iTunes(external link) (Apple).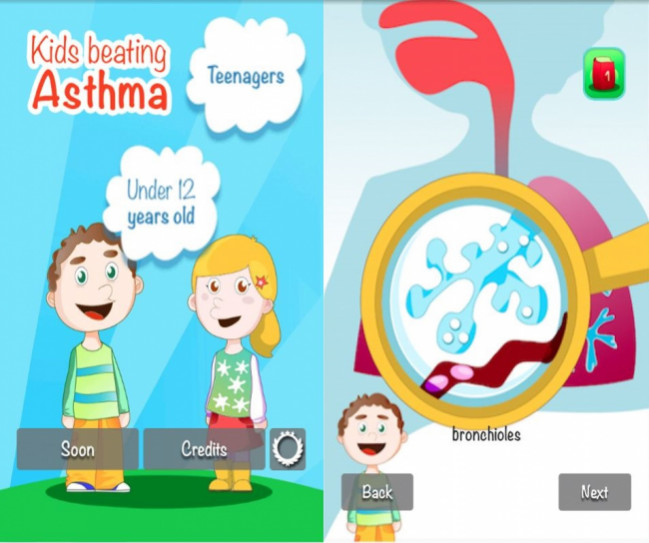 Pros ✔
Cons ✘

Fun and interactive way to teach children about asthma.
The bright colours and bold images are appealing to children.
Has some quirky jokes which kids are likely to find engaging.

Most of the app development appears incomplete such as the

teenage section, some of the content and most of the games. The app was last updated in 2013, so its been incomplete for a while now.

Despite selecting the English option, some of the text appears in Spanish.

The storyteller has a strong Spanish accent making some of the content difficult to understand - kiwi kids are not usually familiar with this accent or pronunciation of words.

Not all information is age appropriate, and at times appears quite complex, for example, children under 12 years are unlikely to understand what is meant by the option Content and in learning about how we breath, in-depth, complex descriptions are given about bronchi, bronchioles, alveoli and the working of the diaphragm.

Date of this review: March 2017
Related resources
This app has been reviewed by other independent websites:

The Kids Beating Asthma app might help children learn about their asthma(external link) iMedicalApps
References
The following references relate to articles about apps for asthma: