Aunty Dee
By Le Va
Features:
This is an online tool that helps you to problem solve. It's called a self-help tool because using simple steps it helps you generate ideas and find a solution to your problem.


Get the app:

Country of origin

New Zealand

Clinical review




Read a clinical review of this app.

Security and privacy
Does the app:


collect medical information? Yes
require a login? No
have password protection? Yes
have a privacy policy? Yes
require internet access? Yes

Read more

safety tips around health apps

.

Cost
Free
What does the tool do?
Aunty Dee is a free online tool that can be accessed on smartphones, tablets and desktop computers. The tool aims to help people work through a problem or problems. By encouraging users to think about, reflect and explore their problems in a structured way, users can proactively find solutions to their problems and then act. Although anyone can use the tool, it is aimed at Pasifika and Māori young people aged 14–25 years. The website also has a library of tips and tricks for some common problems such as trouble sleeping or problems with relationships, friends, health and school. For the complete description, go to the Aunty Dee website(external link) and for a detailed review, see Reviews.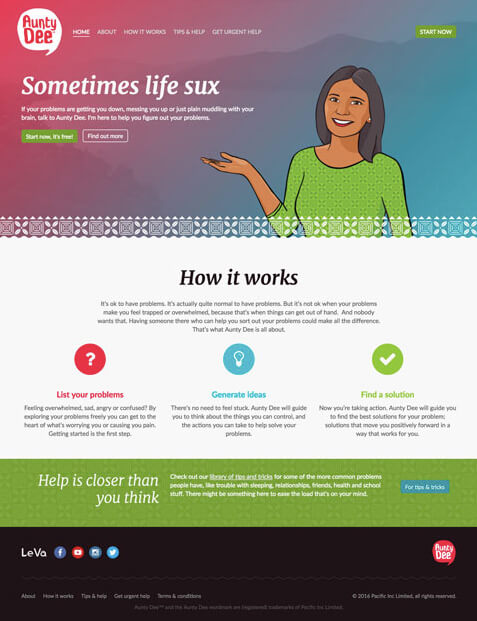 PROS
CONS

✔ Easy to use.

✔ Uses well known cognitive behavioural therapy strategy to help users solve their problems.

✔ Known to enhance mood.

✔ Attractive and engaging format.

✔ Users develop their own solutions rather than being given ideas by website.

✔ Can send solutions to self via e-mail to remind self to follow through with plan.

✔ Designed with Pasifika youth in mind but accessible and useful for all ages and ethnicities.

✔ Website contains other helpful advice including detailed information on how to get further help.

✔ Link to live online chat with a counsellor is available on website.


✘ Written format may not appeal to all users. Success depends on willingness to engage with reading and writing responses.
Review details
Date of review: March 2022
Platform reviewed: Website
Resources
Brochures
Aunty Dee information sheet(external link) Le Va, NZ
Apps/tools
Aunty Dee interactive tool – LeVa, NZ(external link)
Related topics
Mental health and wellbeing apps overview
Goal setting, problem solving and motivation apps
NZ Health App Library
Consumer guide: how to choose a health app
Clinicians guide: how to choose a health app
App developer: If you are the developer and would like to provide updated information about this app, please email the app library manager at
hello@healthify.nz
Disclaimer: Healthify's app library is a free consumer service to help you decide whether a health app would be suitable for you. Our review process is independent. We have no relationship with the app developers or companies and no responsibility for the service they provide. This means that if you have an issue with one of the apps we have reviewed, you will need to contact the app developer or company directly.