My Asthma App
By Asthma and Respiratory Foundation NZ
Features


Education and information
Asthma action plan
Developed by the Asthma and Respiratory Foundation NZ

Get the app:



(external link)

(external link)

Country of origin

New Zealand

Clinical review






Read a clinical review of this app.

User reviews

(0 reviews)


Have you used this app? Tell us what you think of it


Rate this app

Cost
Free
What does the app do?
Information and education: This app provides users with comprehensive information about what asthma is, as well as signs and symptoms, triggers, treatment and first aid. A lot of information is provided within the app itself and more in-depth information is provided as a link to downloadable documents or pages from the Asthma and Respiratory Foundation NZ website.
Asthma action plans: The app lets you create a 3 or 4-stage asthma action plan, with each stage relating to a different level of severity. The action plan includes a list of possible symptoms and you can enter medicines, treatments or other instructions for each stage.
Asthma control test: You can take an asthma control test (the app links to an external website) to help you work out the level of control you have over your asthma.

For a more detailed description of the app, see the app website(external link), Google Play(external link) and, for a detailed review, see Reviews.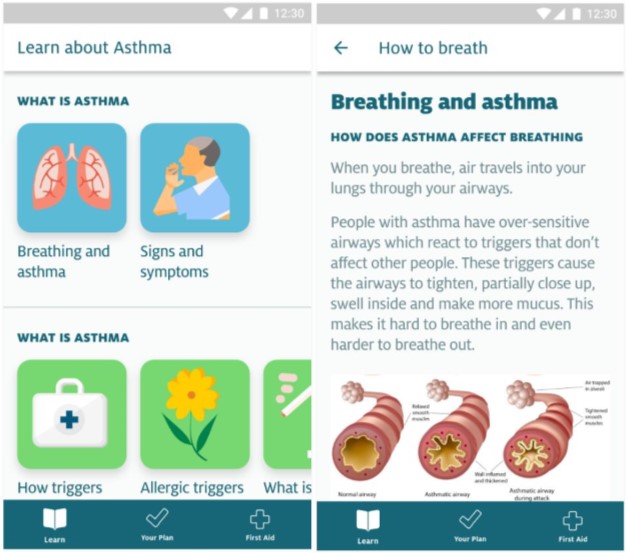 PROS
CONS

✔ Engaging and appealing look with simple interface.

✔ Easy to use.

✔ Uses clear, simple, language.

✔ You can access more in-depth information by links to website.

✔ Asthma action plans can be shared with relevant contacts such as family members, sports coach, etc.

✔ Designed for New Zealanders.





✘ No medicine reminders.

✘ Tracking peak flow, symptoms and triggers isn't built into the app and requires downloading and printing a pdf file.

✘ While a lot of asthma educational information is built into the app, there are also many links to external pdfs from the Asthma and Respiratory Foundation NZ website, which requires an internet connection, is hard to read on a phone and makes the experience less streamlined.

✘ There is an asthma control test, but this is a link to an external website by a pharmaceutical company, rather than built into the app.

✘ There is no option to sync action plans (eg, with caregivers or partners).

✘ Basic, generic images of inhalers used in medication section are not very helpful. Real images of inhalers would help users recognise their specific inhaler.
Privacy and security
The privacy policy(external link) states that the app collects personal information while creating the personalised asthma plan. The information won't be shared with third parties without your permission. Read more about the My Asthma App privacy policy(external link).
Review details
Date of review: December 2020
Platform reviewed: Android
App version: 1.3.2
Download size: 22 MB
Learn more
Asthma and Respiratory Foundation NZ website(external link)
Disclaimer: Healthify's app library is a free consumer service to help you decide whether a health app would be suitable for you. Our review process is independent. We have no relationship with the app developers or companies and no responsibility for the service they provide. This means that if you have an issue with one of the apps we have reviewed, you will need to contact the app developer or company directly.